Phi Theta Kappa: Virtual 5K Scholar Dash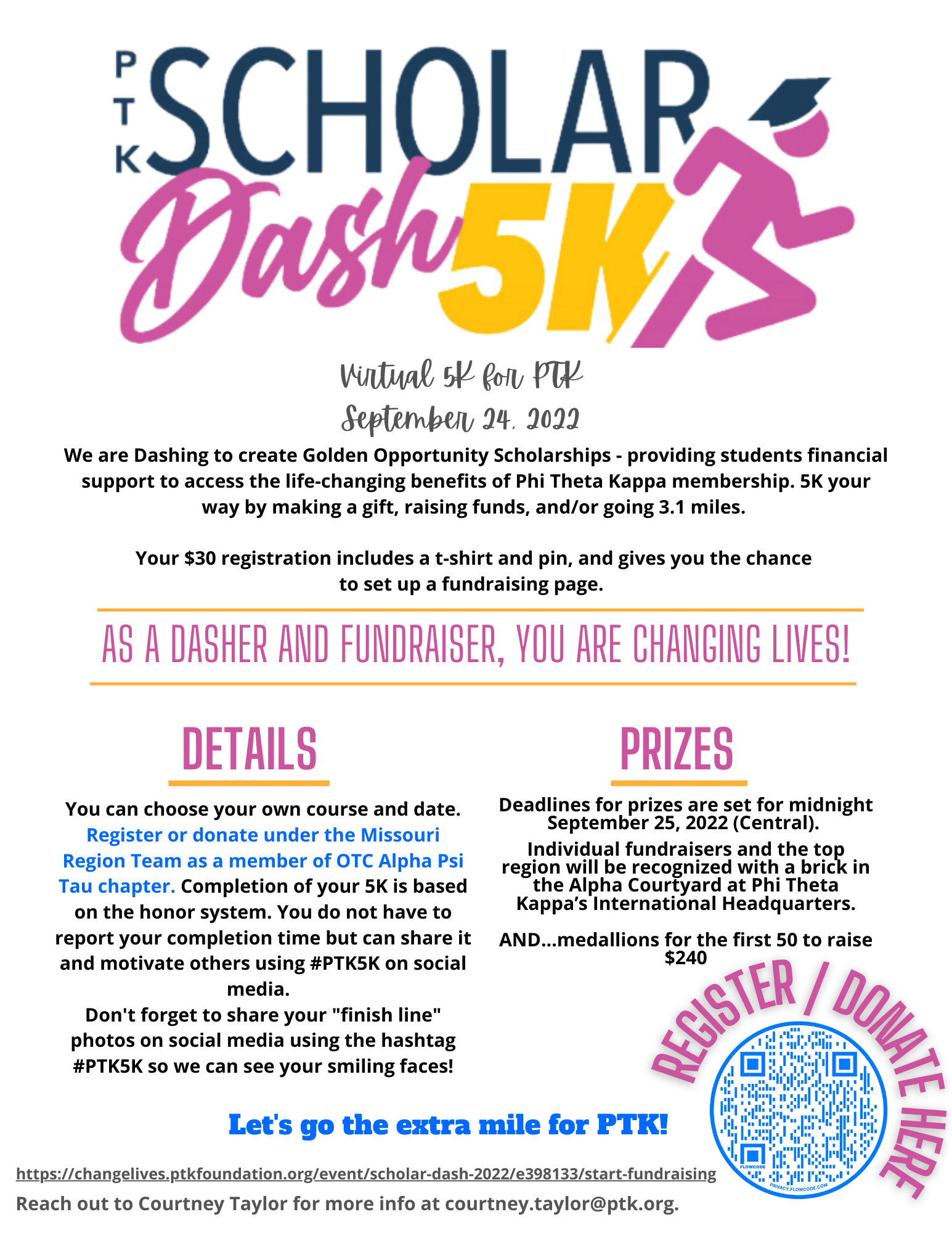 Join members and supporters of Phi Theta Kappa, the Missouri Region of PTK, and the OTC-PTK Alpha Psi Tau chapter for the Virtual 5K Scholar Dash on Sept. 24, 2022.
We are fortunate that our college understands the value of Phi Theta Kappa to our students and membership dues for PTK eligible students are paid by the OTC. Unfortunately, many PTK eligible students at other institutions across Missouri and beyond do not always receive the same level of support from their college and some students struggle to afford PTK membership dues. For this reason, Golden Opportunity Scholarships were created to helped qualified students in need attain PTK membership by funding a portion of their membership dues. The Scholar Dash is a fundraiser for Golden Opportunity Scholarships.
We hope you'll consider joining us to help PTK eligible students through the creation of more Golden Opportunity Scholarships. This is a great way for our chapter, instructors, PTK alumni, and the OTC family to give back and make sure that others have the same opportunities to receive the benefits of being PTK!
Registration is $30 for adults and $15 for those under 18. Your registration includes a t-shirt and pin and gives you a chance to set up your own fundraising page. The Scholar Dash is a virtual event, so you get to choose your own course and date. Register or donate under the Missouri Region Team as a member of the OTC Alpha Psi Tau chapter. Completion of your 5K is based on the honor system. You do not have to report your completion time, but you can share it on social media using #PTK5K to help motivate others and show off your PTK pride.
We hope you'll consider joining us in this opportunity to give back to other PTK members and share our MO region pride. For more information please contact us at ptk@otc.edu or check out the Scholar Dash webpage!
Related Events